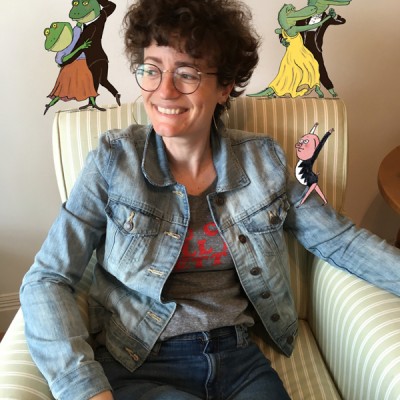 Photo © Judith Freeman
"Talking about a book is never a waste of time." Tor Freeman
Connect with Tor
Release date: 17th September 2020
Interviewed by:
Clémentine

---
Tor was born and educated in London, lived for a while in California and graduated from Kingston University with a BA in Illustration. She has been working as a freelance illustrator, author and comic maker ever since.
Her work has been hailed by readers and critics alike as "bursting with imagination and good-natured humour" (Andy Oliver).
In 2012 she was awarded a Sendak Fellowship. In November 2017 she won the Observer/Cape/Comica graphic short story prize. Fat Ten Sausages won Best Laugh Out Loud Picture Book in the 2020 LOLLIES Awards.
On this podcast, Tor mentions the following books: White Fang, Jack London; The Call of the Wild, Jack London; The Outsiders, SE Hinton; Watership Down, Richard Adams; Jennifer Yellow Hat series; Lois Duncan's mysteries; P.G. Wodehouse's series; The Far Side Gary Larson; Calvin and Hobbes, Bill Watterson; Peanuts, Charles M. Schulz; Doonesbury, Garry Trudeau; The Secret History, Donna Tartt; The Chrysalids, John Wyndham; The Dud Avocado, Elaine Dundee; Cold Comfort Farm  Stella Gibbons; Cassandra at the Wedding, Dorothy Baker; Gone with the Wind, Margaret Mitchell; Out of Time, Miranda Sawyer; and The Kraken Wakes, John Wyndham…
…as well as the following authors: Evelyn Waugh; Ruth Rendell; Jilly Cooper; Barbara Trapido; Colette; and Stephen King.