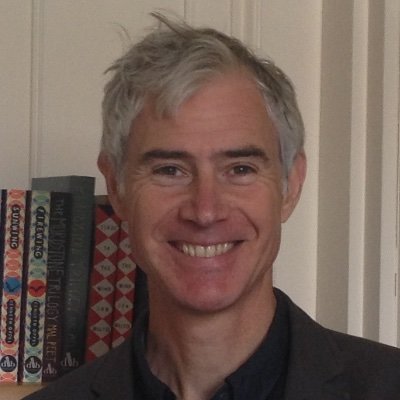 ©
Connect with Simon
Release date: 8th January 2021
Interviewed by:
Bella

---
Simon Mason was born in Sheffield in 1962. He was educated at local schools and studied English at Lady Margaret Hall, Oxford. He is the author of three novels of black comedy for adults, The Great English Nude, which won a Betty Trask Award in 1990, Death of a Fantasist and Lives of the Dog-Stranglers, as well as a volume of non-fiction, The Rough Guide to Classic Novels.
The Quigleys, his first book for children, was published in 2002, and was highly commended in the Branford Boase Award of 2003. His young-adult novel Moon Pie was shortlisted for the Guardian Children's Fiction Prize.
More recently, Simon has launched and edited the Pushkin Press True Adventures series, one of which, Bandit's Daughter, he wrote himself.
In this podcast, recorded before lockdown in Simon's house amongst his books, Bella hears how much reading is involved in editing a guide to classic novels, about the magical descriptions in Proust, the power of poetry and the joy of books as beautiful physical objects.
On this podcast, Simon mentions the following books: The Rough Guide to Classic Novels, Don Quixote by Miguel Cervantes, War and Peace by Leo Tolstoy, Moby Dick by Herman Melville, Lolita by Vladimir Nabokov, The Joy of Sex by Alex Comfort, The Island of Adventure series by Enid Blyton, The Lord of the Rings and The Hobbit by J.R.R. Tolkien, the poems of Robert Browning, the poems of Dylan Thomas, Invisible Cities by Italo Calvino, The Inheritors by William Golding, In Search of Lost Time by Marcel Proust and Daemon Voices by Philip Pullman.
Simon also mentioned the authors Aleksandr Solzhenitsyn, Fyodor Dostoevsky, Muriel Spark and Elizabeth Taylor.