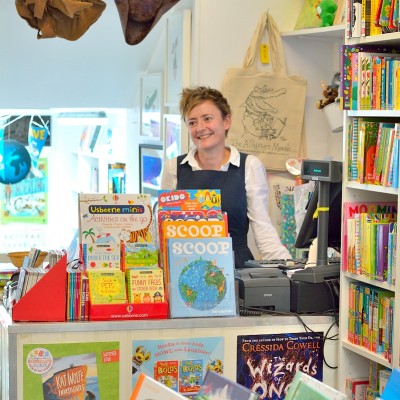 Photo © Mark Pembrey
There has been no life situation where I haven't been able to read poetry. I find it enormously comforting.
Connect with Margaret
Release date: 5th November 2020
Interviewed by:
Clémentine

---
Margaret Wallace-Jones grew up in Cheshire, in a village with a well stocked library (there even were copies of Spare Rib magazine in the back room).
She studied English literature at Royal Holloway and Bedford New College before moving to London.
She worked at many various jobs (she was very bad at them all) before starting on her bookselling career (and made a success of it).
In 2015 she co-founded – with Tony West – the children's bookshop The Alligator's Mouth in Richmond, South West London.
This is where I caught up with Margaret on a cool October night for an interview amidst books. Bliss!
Margaret shares with us how she fell in love with reading thanks to C.S. Lewis' The Lion, the Witch and the Wardrobe, how her love of poetry anthologies was born with Other Men's Flowers, her first steps into feminism with Atwood's Handmaid's Tale and Angelou's I Know Why the Caged Bird Sings and how she can identify with Stephen King's description of childhood places, such as Derry's bracken in It.
On this podcast Margaret also mentions the following books: Nosy Crow's two beautiful poetry anthologies curated by Fiona Waters, I Am the Seed that Grew the Tree, illustrated by Frann Preston-Gannon and Tiger, Tiger, Burning Bright! illustrated by Britta Teckentrup, as well as Margaret Atwood's first novel The Edible Woman and Stephen King's The Dead Zone…
She mentions Keats and Coleridge and the poems 'Journey of the Magi' by T.S. Eliot and 'Romance' by Robert Louis Stevenson, and last but not least the backroom collection of Spare Rib magazines!