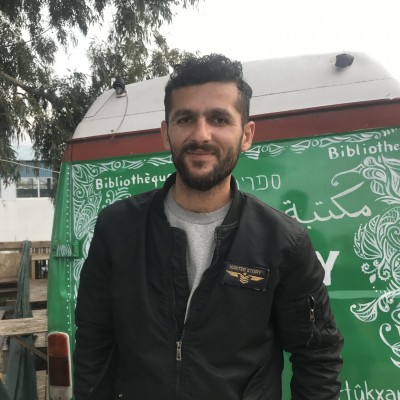 Photo © Clémentine Koenig
"People in the camps are often tired and sometimes they don't want to read to learn. They just want to read in their native language, simply read for pleasure, read to forget…" Dana Sediq
Release date: 17th September 2020
Interviewed by:
Clémentine

---
I met Dana Sediq on a trip to Lesbos in January 2019.
Dana Sediq, from Iranian Kurdistan, arrived in Lesbos in early 2017 to seek political asylum. Soon after, he started to volunteer at the One Happy Family centre (OHF, which burnt down in Spring 2020.) There, he helped to set up the sports centre and to run the library van. He is a Taekwondo master, and is in his late twenties.
"I was living in the Moria camp. I started coming to OHF, and got involved with teaching Taekwondo. As I love reading, they also asked me to take over the van. Back home, I read a lot of Kurdish romances and historical novels."
His journey in becoming a reader wasn't an easy one: "I only attended school for two years, so I learnt how to read with a friend of my father. He could be quite harsh – I remember the slaps on the head I'd get if I had been an inattentive student."
At OHF he started learning English. In this podcast, Dana tells us about what it means to read as a refugee, and talks about his first steps into the world of English books, with Dr Seuss' The Cat in the Hat and Roald Dahl's Fantastic Mr Fox
Since this interview, Dana has moved to Athens, where he has set up a sports centre for those in need – refugees, asylum seekers and Greeks alike. He is still awaiting a decision on his asylum application. It is not looking good. 
Clémentine
Note: I was travelling to Lesbos with the Three Peas, a charity set up to support refugees and asylum seekers in Greece and elsewhere.